Welcome back everyone! Today the countdown continues with songs 80-71 of the 101 Biggest Hits of 2014! If this is your first time checking in on the countdown, please read this for the process by which I ranked the songs you are about to see! Without further ado, let's pick up where we left off with song #80!
#80: 0 To 100 / The Catch Up by Drake
Peak: #35            2014 Weeks on Chart: 20         Points: 1060

As I mentioned a few songs ago on the countdown, 2014 was a relatively quiet year for Drake. He still managed to appear on nearly a dozen charting tracks this year, but this #80 ranking is his final one on this countdown. "0 to 100" was released towards the end of the summer as the lead single for his upcoming Views From The 6 album, which will drop sometime next year. Being so far away from the actual release date and lacking a music video, "0 to 100" never really took off, stalling just inside the Top 40. A trend I've noticed with Drake over the past few years is that he's one of very few acts in the rap genre who occasionally appear without any featured artists, and he used "The Catch Up" portion of the song to highlight his ability to rap and vocalize, in essence fulfilling both roles of the traditional rap song.
#79: Waves by Mr. Probz
Peak: #14           2014 Weeks on Chart: 17         Points: 1077

Hailing from the Netherlands, Mr. Probz likely didn't anticipate his 2013 single "Waves" becoming a big hit here in the US. As a very slow, almost lethargic ballad, the original version of "Waves" sounds far removed from anything you might expect to hear on popular radio. I'm not sure how German producer/DJ Robin Schulz saw hit potential in the song, but he revved the tempo up in a radio-friendly remix, and turned "Waves" into a relaxing, trancey affair which worked its way into regular rotation on the air. We've seen this before, perhaps most notably with Timbaland's reworking of OneRepublic's "Apologize," but it's still rare to see an unknown artist be such an instant beneficiary of a remix. Still charting currently inside the Top 20, "Waves" still has plenty weeks to go on its already-impressive run.
#78: Take Me To Church by Hozier
Peak: #2          2014 Weeks on Chart: 18         Points: 1086

An easy candidate for Sleeper Hit of the Year, "Take Me To Church"'s long road to success has been an interesting one. Originally released right around the beginning of the year, I heard murmurs of the track around the alternative charts and from a few friends who were devoted fans. Months later, the Irish rocker's single made its modest debut on the Hot 100. Riding its haunting hook slowly up the chart, a live performance by Hozier on SNL early in November gave it the huge spark it needed, prompting a 20+ spot jump into the Top 10. From there, it has continued to rise steadily, before finding its current #2 position last week. As we move into 2015, "Take Me To Church" figures to be the song with the best chance to dethrone the current #1 single, Taylor Swift's "Blank Space."
#75 (tie): Bartender by Lady Antebellum
Peak: #31            2014 Weeks on Chart: 20         Points: 1092

Last year, I mentioned how Lady Antebellum had begun to drift away from the crossover country-pop ballads which made them famous and granted them the biggest hits of their career. Following in the footsteps of 2013's "Downtown," "Bartender" was a similarly uptempo track which wound up having a virtually identical chart run. Utilizing a music video starring Kate Upton and Arrested Development's Tony Hale, "Bartender" became Lady A's 9th career #1 Country Airplay single, and served to further validate the tonal shift the group has undergone in the past year or so.
#75 (tie): Drunk On A Plane by Dierks Bentley
Peak: #27            2014 Weeks on Chart: 20         Points: 1092

Dierks Bentley is one of those guys who has had his foot in the proverbial door of country radio for the virtual entirety of his 10+ years of fame in the genre. In that time, he has bounced back and forth between straightforward mid-tempo country songs (like this year's "I Hold On") to downright silly novelty tracks that still become hits ("What Was I Thinkin'" and "5-1-5-0". Chalk this year's "Drunk On A Plane" to the latter category, as its goofy lyrics about a raucous party on a jet somehow translating into a chart-topping summer hit for Bentley. Its successful run gave Bentley his 12th country #1 single, and once again prevented his descent into ignominy.
#75 (tie): La La La by Naughty Boy f/Sam Smith
Peak: #19           2014 Weeks on Chart: 20        Points: 1092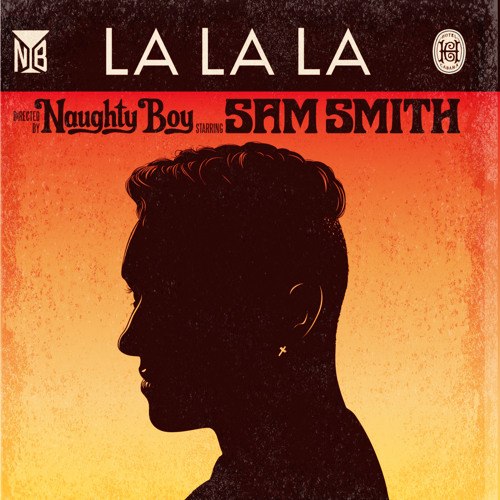 Serving as America's first introduction to the global phenomenon that is Sam Smith, Naughty Boy's 2014 single topped the charts in the U.K. before it found its way stateside. Featuring a mix of a modern electronic beat and a decidedly retro feel, "La La La" showcases Smith's powerhouse vocals and paved the way for the young Brit's eventual three Top 10 singles this year. The song also had the good fortune of having one of the year's most-watched music videos, a creepy pastiche of The Wizard of Oz which didn't particularly seem to fit the song's thematic content. Nonetheless, "La La La" became one of the more unique hits of 2014, and continued the reliable pipeline of UK #1's to the US market (more on that later).
#74: Riptide by Vance Joy
Peak: #32            2014 Weeks on Chart: 25         Points: 1101

It's very rare for a song that peaks outside of the Top 30 to achieve a high ranking on my year-end countdown. However, if a song hits its stride late in its chart run, and is able to beat Billboard's 20-week rule, then it stands a chance to accrue enough points to make a splash. In the case of Vance Joy's irresistible folk-pop hit "Riptide," it debuted in early summer and slowly chugged its way towards #50. Then, a few weeks ago, it abruptly jumped 20 spots into the Top 40, and it has pushed forward ever since, reaching its peak of #32 on Thursday. Despite earning fewer than 50% of the points possible in its 25 weeks on the chart, "Riptide" has made its extended stay count, and it still has the chance to peak even higher in the coming weeks.
#73: Wrecking Ball by Miley Cyrus
Peak: #9 (#1 in 2013)           2014 Weeks on Chart: 15         Points: 1117

As you've seen already to an extent, the hits of last fall and winter have an interesting pro/con associated with their chart runs. The con: since their time is split between two chart years, it's nearly impossible for them to finish near the top of a year-end list. The pro: since their time is split between two chart years, they often have the ability to appear on two consecutive year-end charts. For "Wrecking Ball," this situation has played out perfectly, as the ballad has attained virtually the same year-end result in both 2013 and 2014. Were the song's 30+ chart weeks portioned out into one year, it likely could have finished in the Top 10. But as it were, "Wrecking Ball" still is Miley's only #1 single to date, and still serves as a all-too-apt metaphor for the bizarre turn her career has taken.
#72: American Kids by Kenny Chesney
Peak: #23            2014 Weeks on Chart: 20         Points: 1188

In a genre that has forced many of its mainstays to horrifically alter their sound (see some of the tracks on Tim McGraw's new album), Kenny Chesney has refused to change his trademark sound, and audiences have rewarded him year in and year out. His new album The Big Revival sounds like it could've been recorded 10 years ago in his heyday, and that has translated to a level of success Chesney hasn't seen in at least 5 years. As the lead single, "American Kids" is a fun and sing-alongable track which was perfectly tailored for the summer, giving him a whopping 23rd career #1 single on the country charts. In addition, its peak at #23 was his highest since he reached #18 in 2010 with "The Boys Of Fall."
#71: Roar by Katy Perry
Peak: #8 (#1 in 2013)            2014 Weeks on Chart: 16         Points: 1244

Much in the vein of "Wrecking Ball"'s chart run, Katy Perry released "Roar" slightly too late in 2013 for it to make the splash it probably deserved on that year's year-end chart. But as a consolation, "Roar" still racked up a great deal of points in its limited number of weeks in 2014, good enough for a more-than-respectable placement on this countdown. Given the undeniable success of "Dark Horse" this year, which did spend the lion's share of its chart run in this calendar year, I don't see Katy Perry sweating this too much. Did "Dark Horse" get enough points to finish the year #1? I won't reveal that now, but I will say that it would be the winner if the year ended in June.
————————————————————————————————————————————————————-
Once again, thank you to everyone for your continued reading of the countdown! I'll see you back here tomorrow for songs 70-61!
Until then,
Ryan