Welcome back everyone! Today the countdown continues with songs 60-51 of the 101 Biggest Hits of 2014! If this is your first time checking in on the countdown, please read this for the process by which I ranked the songs you are about to see! Without further ado, let's pick up where we left off with song #60!
#60: Burnin' It Down by Jason Aldean
Peak: #12            2014 Weeks on Chart: 20         Points: 1375

Jason Aldean will likely never have another single chart as highly as 2011's "Dirt Road Anthem," but the country superstar certainly tries his best every year to equal that success. This year, it came with "Burnin' It Down," which plays more like a sensual R&B track than a country song. Debuting high and staying there for a long time, "Burnin' It Down" became Aldean's second-highest chart peak in his still-vibrant career. The only thing which hurt the track towards the end of its run was Aldean's decision to take his entire catalog of music off Spotify shortly after Taylor Swift dropped the initial bombshell. "Burnin' It Down" fell nearly 20 spots the week after Aldean did so, hopefully serving as a testimonial to the power Spotify holds in contemporary chart analytics.
#59: Play It Again by Luke Bryan
Peak: #14            2014 Weeks on Chart: 20         Points: 1388

Most country artists go under a two year cycle with each of their albums, spreading out five or six singles to last them the 24 months or so it takes to go on tour and get a new album in the works. Luke Bryan is no exception, and 2014 was Year Two in his Crash My Party cycle. While not as successful as 2013, this year certainly was another solid one for Bryan, starting it off with the country #1 single "Drink A Beer." As the fourth single, "Play It Again" soared into the Top 20, becoming Bryan's highest-peaking single to date. More impressively, it became his seventh consecutive single to reach #1 on at least one of the two country charts (Hot Country Songs and Country Airplay), a streak which continued with the followup single "Roller Coaster." We'll see in 2015 if his current single "I See You" can keep the streak rolling.
#58: 2 On by Tinashe f/ScHoolboy Q
Peak: #24          2014 Weeks on Chart: 24         Points: 1434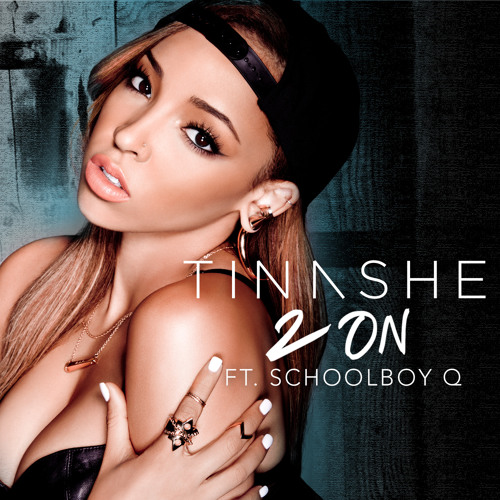 2014 was a great year for female artists scoring breakout singles, as we'll see in much more detail closer to the top of the countdown. Over in the hip-hop genre, Tinashe broke through with the enormously catchy "2 On." Featuring ScHoolboy Q (in his second appearance on this countdown) and production from (who else) DJ Mustard, the track feels exactly like what Ciara would be doing if she had her first hit this year. Tinashe interpolates the melody of Sean Paul's "We Be Burnin" for good measure, and shows off her dancing skills in the music video, helping to make "2 On" one of the genre's most successful singles of the year. Not bad for a debut single!
#57: Lifestyle by Rich Gang f/Young Thug & Rich Homie Quan
Peak: #16            2014 Weeks on Chart: 22         Points: 1441

Rich Gang is one of the more befuddling "artists" out there these days. A collective of over a dozen of rapper Birdman's followers, they obviously don't all appear together on every track bearing their name, as we saw in their 2013 hit "Tapout." But on "Lifestyle," which easily became the most successful Rich Gang single yet, none of the official members appear on the track at all. Instead, featured performers Young Thug and Rich Homie Quan carry the entirety of the vocals, anchored by Young Thug's frustratingly catchy hook which borders on unintelligible several times. If anybody knew that he was saying "living life like the beginning, and it's only beginning" before looking it up on RapGenius, then you get 10 points and my instant respect.
#56: Hey Brother by Avicii
Peak: #16            2014 Weeks on Chart: 21         Points: 1450

How do you possibly follow up the most successful single of all time in your genre? Well, for Avicii, the easiest way to attempt this was to revisit the very elements which made "Wake Me Up" the unavoidable smash hit it became last summer. Using the "folktronica" brand he generated last year with vocals from Union Station's Dan Tyminski, "Hey Brother" feels just different enough from "Wake Me Up" while still building to a thumping climax. It had no trouble reaching the Top 20 in February and March, but its chart run ended while "Wake Me Up" still was on the Hot 100, likely dooming it to a similar long-term fate as OneRepublic's "Love Runs Out."
#55: Bottoms Up by Brantley Gilbert
Peak: #20            2014 Weeks on Chart: 25         Points: 1477

One of "bro-country"'s proudest advocates, Brantley Gilbert has turned the sudden pop-friendliness of country into a string of hits. "Bottoms Up" made its debut in the very first chart week of 2014, and proceeded to make it all the way to the end of June inside the Top 50, easily becoming his biggest success ever on the chart. With enough guitar to sound more like a rock song than a country tune, "Bottoms Up" predictably espouses the way country boys like to party, with a music video that compares the antics involved to the travails of Bonnie and Clyde. A peak of #20 is extremely successful for any country artist not named Aldean, Bryan, or Florida Georgia Line, but Gilbert will have difficulty reaching those heights again unless he returns his music catalog to Spotify (after following in Jason Aldean's footsteps).
#54: Anaconda by Nicki Minaj
Peak: #2            2014 Weeks on Chart: 19         Points: 1478

I'd rather not spend too much time talking about "Anaconda," so I'll leave my opinion about the track at the door and focus on the statistics. Riding a sample of Sir Mix-A-Lot's classic "Baby Got Back," "Anaconda" shot to the #2 spot on the Hot 100 in just its 3rd week on the chart. This 30-spot jump was fueled by arguably 2014's most viral music video, which basically brings the album cover above to life. Once the initial novelty of the music video wore off, "Anaconda'"s popularity quickly dwindled, and next week will likely be its last on the chart. This would make it a rarity among Top 10 singles, which usually are able to best Billboard's 20-week rule. Nonetheless, it still represents the highest peak Minaj has reached as lead artist.
#53: Trumpets by Jason Derulo
Peak: #14            2014 Weeks on Chart: 29         Points: 1523

Last year when talking about "The Other Side," I spoke about how surprised I was to see Jason Derulo returning to relevance on the Hot 100. While after seeing him more or less dominate the charts this year, I guess I stand very much corrected. He has three appearances on the countdown this year, and they will show up coincidentally in reverse chronological order. "Trumpets" became the biggest sleeper hit of the year mathematically, spending its first four months on the chart languishing in the bottom third of the chart. But, once "Talk Dirty" and "Wiggle" fell off the chart, the song took off, reaching the Top 20 for the first time in its sixth month on the chart. If you're keeping score at home, its 29 weeks spent on the charts, are the most we've seen so far on this countdown, and good for 18th overall for all songs.
#52: Hot Boy by Bobby Shmurda
Peak: #6            2014 Weeks on Chart: 20         Points: 1526

One of 2014's big storylines was the success of Vine and its ability to turn novelty tracks into effective Hot 100 singles. The most successful rider of this trend (sorry to O.T. Genasis and his "CoCo") was Bobby Shmurda, whose "Hot Boy" (like "My Hitta," I'll let you figure out the official title) became the first Top 10 single to reach those heights on the strength of going viral via Vine. Owing to "Hot Boy"'s massive success was the so-called "Shmoney Dance" performed by Shmurda in the music video, which was recreated by celebrities and laymen alike in a massive series of YouTube videos and Vines, most of which were set to "Hot Boy." Per Billboard's new rules for including video streaming services, any video that substantially contains a song counts as an official listen of the song, a trend which has allowed songs like "Billie Jean" and "Livin' On A Prayer" re-enter the charts decades after their initial popularity.
#51: Cool Kids by Echosmith
Peak: #13            2014 Weeks on Chart: 23         Points: 1549

One of 2014's rising stars was the young band Echosmith, comprised of the four Sierota siblings, all of whom were born in the 1990s. Their album Talking Dreams was one of my favorite listens of the year, and its lead single suitably became their signature song and first big Hot 100 hit. Oozing with all the indie pop conventions that make for a summer radio darling, "Cool Kids" turned a simple melody with a catchy instrumental hook into a major hit, one which still found itself on the Hot 100 at the time of publication. Although it's an endlessly fun song, "Cool Kids" was far from my favorite track off the album, so I'm optimistic for future singles from the album to perform just as well.
————————————————————————————————————————————————————-
Looks like we've made it to the halfway point of the 101 Biggest Hits of 2014! Thank you very much to everyone who's been reading these daily posts! I'll see you here tomorrow for a Christmas Eve version of the countdown, featuring Songs #50-41!
Until then,
Ryan