Welcome back everyone! Today the countdown continues with songs 90-81 of the 101 Biggest Hits of 2015! If this is your first time checking in on the countdown, please read this for the process by which I ranked the songs you are about to see! Without further ado, let's pick up where we left off with song #90!
#89 (tie): On My Mind by Ellie Goulding
Peak: #13            2015 Weeks on Chart: 12         Points: 989
Billboard Year-End Ranking: Not Ranked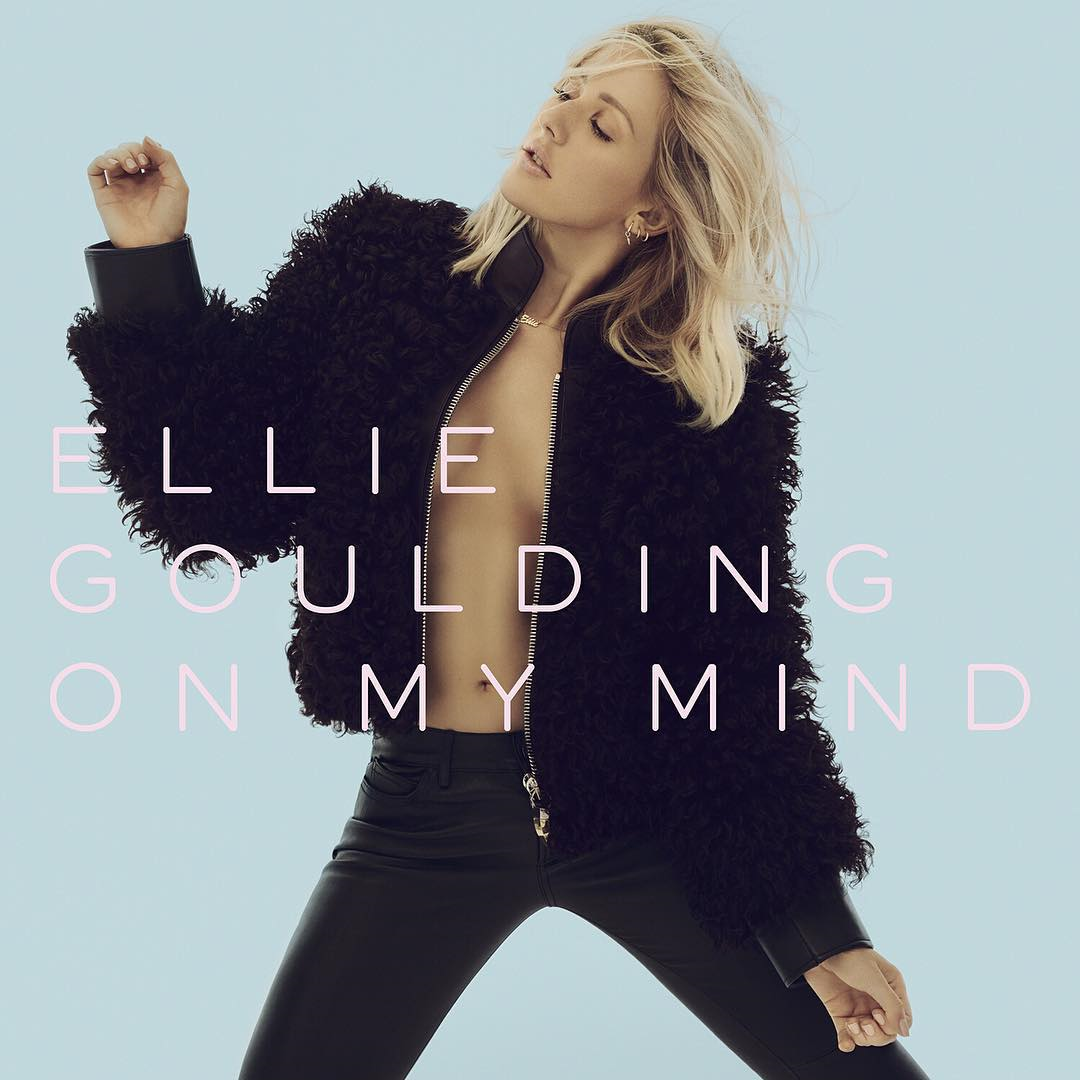 Ellie Goulding has been a consistent presence on the Hot 100 since her breakthrough single "Lights" hit the Top 10 in the summer of 2012, but it's fascinating to think that she's never had two songs make this countdown in one year until 2015. As her current lead single off the Delirium album, the hard-hitting "On My Mind" snuck into the Top 101 with only three months of chart time logged. The song is a tonal opposite from the more balladic Fifty Shades Of Grey tune you'll see towards the end of this list.
#89 (tie): Jumpman by Drake & Future
Peak: #12            2015 Weeks on Chart: 12         Points: 989
Billboard Year-End Ranking: Not Ranked
Drake was the unquestioned winner of 2015 in music, with not one but two fly-by-night mixtapes taking the industry by storm. "Jumpman," the most successful track from What A Time To Be Alive, his collaboration with Future, represents the Toronto rapper's first of an incredible seven entries on this countdown. The array of tracks from What A Time To Be Alive simultaneously debuted on the Hot 100 back in September, making Drake the fourth artist in history (after Elvis Presley, the cast of Glee, and Lil Wayne) to have 100 songs reach the Hot 100.
#88: No Type by Rae Sremmurd
Peak: #18 (#16 n 2014)     2015 Weeks on Chart: 14         Points: 991
Billboard Year-End Ranking: 70

Those who thought young duo Rae Sremmurd (Ear Drummers backward) would be flashes in the pan with "No Flex Zone" were quickly corrected when follow-up single "No Type" abruptly surpassed its predecessor and became the group's highest-charting single to date. Their debut album SremmLife was a commercial success, but more recent singles like "This Could Be Us" and "Come Get Her" have failed to crack the Top 40.
#87: Same Old Love by Selena Gomez
Peak: #9            2015 Weeks on Chart: 13         Points: 1009
Billboard Year-End Ranking: Not Ranked
One of several entries on this countdown to currently be sitting in their peak position, Selena's second single from Revival entered the Top 10 earlier this month and continues to build steam on pop radio, thanks to a catchy chorus which utilizes Charli XCX as an uncredited backing vocalist. The first of Gomez's four Top 10 singles that didn't reach that distinction via a debut in the region, "Same Old Love" figures to be a staple of pop radio well into 2016 and should challenge for another spot in the countdown this time next year.
#86: How Deep Is Your Love by Calvin Harris & Disciples
Peak: #27            2015 Weeks on Chart: 20         Points: 1065
Billboard Year-End Ranking: 100
Though it never quite reached its full potential, Calvin Harris's non-album single "How Deep Is Your Love" nonetheless found a home on pop radio this fall and performed reasonably similar to other tracks like "Blame" and "Let's Go." Contrary to common belief, Disciples is not the singer but rather the trio helping Harris with production, as the uncredited vocals come from Norwegian singer Ina Wroldsen. The song bears no similarity to the Bee Gees and Dru Hill songs with the same name that reached the Top 5 in 1977 and 1998 respectively.
#85: Back To Back by Drake
Peak: #21            2015 Weeks on Chart: 19         Points: 1067
Billboard Year-End Ranking: 99
One of the most one-sided rap feuds in history occurred this summer between one-time collaborators Drake and Meek Mill. The latter rapper accused Drake of ghostwriting and a lack of enthusiasm on his track "R.I.C.O.," so Drake responded with the diss track "Charged Up." A week later, after no public response from Meek Mill, Drake struck back again with the aptly-named "Back To Back," which assured listeners that he indeed writes his own verses, with Lethal Weapon and Michael Jordan references galore. Needless to say, the "feud" was abruptly ended when Meek Mill apologized on Instagram.
#84: Downtown by Macklemore & Ryan Lewis et al.
Peak: #12            2015 Weeks on Chart: 16         Points: 1073
Billboard Year-End Ranking: 84

Their first charting single in nearly two years, "Downtown" purported to be a return to form for Seattle's native sons. Recruiting a laundry list of featured acts too long to mention in the general info, the bizarre and uneven moped hype track leapt into the Top 20 within a few weeks of release, but sputtered shortly thereafter and failed to become 2015's "Thrift Shop." We'll see if they go back to the drawing board and try to re-create "Can't Hold Us" in 2016.
#83: Again by Fetty Wap
Peak: #33            2015 Weeks on Chart: 18         Points: 1075
Billboard Year-End Ranking: Not Ranked
The first of four entries you'll see from 2015's breakout star Fetty Wap, "Again" proves the age-old adage of "if it ain't broke, don't fix it." A typical Fetty hip-hop love song, "Again" literally borrows large swaths of lyrics from "Trap Queen," to a much surprisingly more effective end than you might be thinking. At over five minutes long, the song also has an out-of-nowhere lengthy musical outro that proves Fetty has more than enough ingenuity to survive the trappings of a one-hit wonder.
#82: Kick The Dust Up by Luke Bryan
Peak: #26            2015 Weeks on Chart: 20         Points: 1088
Billboard Year-End Ranking: 87
As the lead single from Bryan's most recent album Kill The Lights, "Kick The Dust Up" represented yet another entry in the Luke Bryan country party catalog. It became his 11th Country Airplay #1 single as well as his fifth in a row, a streak that would continue with the previously-mentioned "Strip It Down." Despite a great deal of success this year, Luke Bryan still had a somewhat disappointing 2015, as he was unable to match the three Hot 100 Top 20 singles his previous album Crash My Party yielded.
#81: Budapest by George Ezra
Peak: #32            2015 Weeks on Chart: 23         Points: 1089
Billboard Year-End Ranking: 89

Over the past few years, songs which in the past had been traditionally reserved for indie radio have experienced mainstream success. From "Ho Hey" to "Riptide," alternative hits are becoming pop hits at a much greater rate these days, usually after a lengthy layover. After cutting its teeth on the European charts in 2014, George Ezra's breakout single "Budapest" made its way onto the Hot 100 in early spring and stuck around for nearly six months. Ezra seems destined to be a one-hit wonder here in America, but he serves as yet another reminder that the European hits of last year have a decent chance of being the biggest hits here this year. More on that later when we chat about a certain song by OMI.
————————————————————————————————————————————————————-
A big thank you again to everybody for reading the second installment in the 101 Biggest Hits of 2015! Check back tomorrow for songs 80-71, as we continue our quest to uncover the songs that defined this past year!
Until then,
Ryan