As 2015 heads into its last moments, it's nigh time for my final music-related post of the year. My 101 Biggest Hits of 2015 countdown is as objective as any discussion of music can be: a yearlong accumulation of cold hard statistics and my dutiful transmission of them without any bias.
Today though, my endeavor is a purely subjective one. 2015 was an extremely interesting year for music, with plenty of bright new faces, a number of familiar artists not heard from in quite a while, and a surprising dearth of material from established superstars. This gave me an abundance of material for my picks of the 10 Best Songs of 2015, and made it difficult for me to set my rankings in stone.
For the past month or so, I have been racking my brain trying to narrow down my list, and at one point I considered expanding my article to my 20 favorites, or even 30. But at the end of the day, succinctness is the journalistic imperative, and I was just barely able to trim my ranked choices down to 10 songs. Operating under the umbrella of one song per artist, I'll first show you the 20 songs which I strongly considered but ultimately fell just short. In no particular order, here are my 2015 honorable mentions:
These rankings are entirely my own, and not aimed to please, so I'm confident there will be an entertaining mix of agreement and brush-back on these rankings. Please let me know what I got right, where I went wrong, and what great songs I unforgivably overlooked. That's the fun of year-end rankings, right? So with that behind us, here's a look at my picks for the 10 Best Songs of 2015!
#10: Black Magic by Little Mix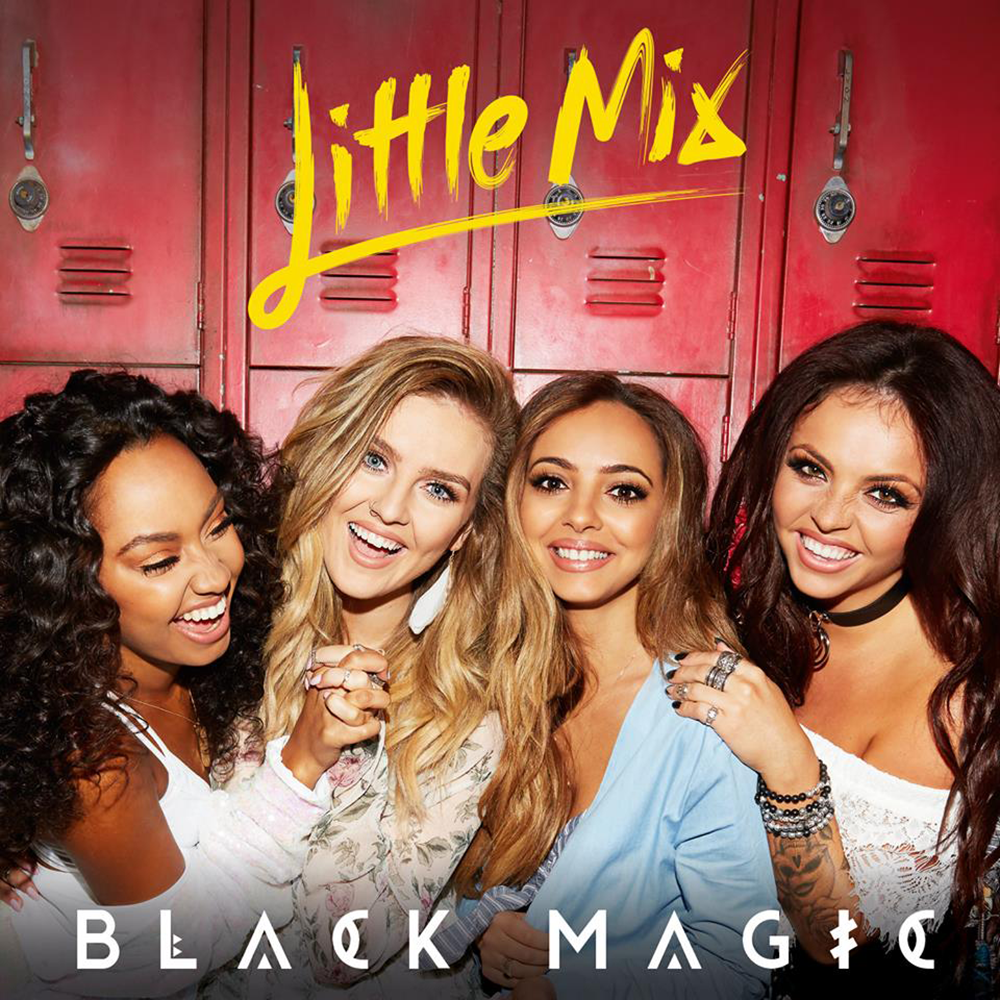 Always overshadowed stateside by the American counterparts Fifth Harmony, British X factor alumnae Little Mix have never really taken off outside of the U.K. Nonetheless, I have always enjoyed their upbeat spin on pop, from their breakout hit "Wings" to their excellent cover of Cameo's "Word Up." This year however, their 2015 single "Black Magic" quickly became my favorite song in their catalog. A delightfully bouncy song explodes into a memorable chorus, infused with a guitar riff reminiscent of the lovechild of "Girls Just Want To Have Fun" and "I Wanna Dance With Somebody." Its Hot 100 chart magic fizzled out prematurely, but "Black Magic" became the group's first U.K. Number One hit in three years, and was the perfect summer jam no matter where you listened.
#9: Cake By The Ocean by DNCE

I had the good fortune of stumbling upon DNCE's debut single "Cake By The Ocean" the day it was released, after chancing upon it via Spotify's New Music Friday playlist. Intrigued by its irresistible guitar riff and maddeningly effective double entendres, I quickly looked up the group to learn more about them. My jaw about hit the floor when I discovered that their familiar-sounding lead vocalist was none other than Joe Jonas. I was shocked enough by Nick Jonas's comeback last fall, but it seems now that the world of pop music has room enough for two Jonas Brothers pumping out palatable singles.
#8: Ghost Town by Adam Lambert

I never thought I'd be writing about Adam Lambert at the end of 2015. Sure, he'd had a minor resurgence in popularity as the touring singer of Queen, but I was fairly certain that his name would be removed from the annals of current pop music. While he didn't have any "big hits" this year, his album The Original High contained a much darker soundscape put to effective use. Lead single "Ghost Town" is much different musically than anything Queen ever put out, with a raucous synthpop breakdown containing a haunting whistling effect. Lyrically however, its dream-like verses would fit in admirably with Queen's conceptual songs, giving Lambert's first Hot 100 hit in five years a classic heart surrounded by an inescapably modern exoskeleton.
#7: Hold My Hand by Jess Glynne

Turns out Jess Glynne is more than capable of creating incredible pop music without the aid of Clean Bandit! Though you can certainly see elements of  "Rather Be" in the melodic progression of "Hold My Hand," the latter single utilizes piano to jubilant effect, creating an equally memorable summer anthem. In addition to having an instantly recognizable chorus, "Hold My Hand" surpasses "Rather Be" in its final bridge, which showcases Glynne's multi-octave range and builds steadily to an epic conclusion. Clearly the Coca-Cola Company agrees with me, giving Glynne a second year with a song of hers featuring in their ads.
#6: Nobody Love by Tori Kelly

You'd be hard-pressed to find someone happier than me at Tori Kelly's pending nomination for Best New Artist at February's Grammy Awards. She has an impressive voice, and her decidedly retro feel with modern production values gives her a distinctive quality hard to come by as a rising artist. Her first hit "Nobody Love" starts promisingly, but saves its best surprise for its final minute. The bridge ends with a spine-tingling vocal riff by Kelly, which bursts into a horn-filled instrumental re-rendering of the chorus, improbably transforming it from a minor key to a bubbly major key. The song's sudden metamorphosis is one of the year's best musical moments, and has me excited for Tori Kelly's bright future.
#5: Clearest Blue by CHVRCHES

Scottish synthpop group CHVRCHES took a more laid-back approach to the electronic genre on its first album. And while their 2015 album Every Open Eye has plenty of similar-sounding material (especially Rolling Stone's favorite cut "Leave A Trace"), it also had plenty of tracks which delightfully sped up the tempo. The album's standout single in my mind is "Clearest Blue," which plays like a latter-day Cranberries song until crossing the 2-minute mark. At that crucial juncture, "Clearest Blue" explodes into a dance-inducing frenzy, with a melodic synth riff that would make Depeche Mode green with envy. In marrying the sonic qualities that have made CHVRCHES so popular with the throwback grooves that launched the genre 30+ year ago, "Clearest Blue" is the group's finest song to date.
#4: Electric Love by BØRNS

If you thought classic glam rock died in the late 1970s, don't tell that to up-and-coming American singer BØRNS. You can hear the Gary Glitter, David Bowie, and Todd Rundgren influences in each of his songs, but none shine brighter than his magnum opus "Electric Love." Boasting the year's finest pre-chorus bridge (especially the self-harmonized "baby, you're like ligthning in a bottle"), it showcases BØRNS's silky voice as he dreamily sings his ode to a fiery romance. Thumping along in 6/8 time, "Electric Love" is one of the year's catchiest songs, and it's an absolute travesty that it failed to even crack the Hot 100.
#3: Stay A Little Longer by Brothers Osborne

I know my enjoyment of country music is far from a universal trait, but every now and then a country song comes out that is just too good to keep in my isolated bubble. The Brothers Osborne hit the Hot 100 for the first time this fall with "Stay A Little Longer," which simply put is likely the decade's finest country song to date. For the first 3 minutes of its running time, it is a plaintive ballad, playing out as a midtempo reminiscence of 10cc's classic "I'm Not In Love." Halfway through however, singer T.J. Osborne passes the reins to his brother John, who harnesses the lyrical emotions and channels them into his guitar. What follows is an incredible three-minute instrumental outro which Eric Church would be proud of, transforming a very refreshing country song into one of the year's finest compositions. The music video edit is quite good, but make sure you listen to the longer version of the song available on Spotify to gain its full effect.
#2: Firestone by Kygo f/Conrad Sewell

Before Justin Bieber made tropical house a household genre with "What Do You Mean?" and "Sorry," Norwegian DJ Kygo carried the genre's torch en route to become 2015's biggest global breakout artist. His easygoing beats ooze a summery feel, and have restored a sense of melody to an EDM genre increasingly dominated by shock value, humor, and "drops." On "Firestone," all the pieces of the quintessential Kygo record come together, with an enticingly slow build that never drops, but pulses with palpable energy. Paired with gorgeous vocals and lyrics from Conrad Sewell, "Firestone" is the very definition of a song to fall in love to in the 21st century. It might not be the song you blast at full-volume in the club, but "Firestone" is the ultimate showcase of the power tropical house has to transform EDM into something which can mix pop sensibilities, authentic emotions, and danceable grooves into one heck of an earworm.
#1: Run Away With Me by Carly Rae Jepsen

Remember when I said in the 101 Biggest Hits countdown that Taylor Swift's "Style" has served as the banner example of the clear 80s influence in 2015 pop music? Well, I wish that wasn't the case, as Carly Rae Jepsen's amazing album EMOTION has the soul of the 1980s running through its bloodstream. As the best song on a terrific album, opening track "Run Away With Me" is an astonishing achievement of both re-invention for Jepsen and of setting the tone for the sonic jubilee that follows. Rolling Stone called it a mix of M83 and Gerry Rafferty's "Baker Street," and its ever-present saxophone riff is a good testament to that comparison. But "Run Away With Me" is so much more than just that. It utilizes vocal white space to dazzling effect, as Jepsen needs very few lyrics in the chorus to nonetheless convey utter joy. It's pulse-pounding production evokes the 80s while simultaneously taking lessons from what makes modern dance records click. And most of all, like the best Boston records, it understands the importance of in-song momentum, with the intensity rising and falling throughout. Nearly out of breath in the song's final bridge, Jepsen almost speaks "over the weekend, we can turn the world to gold" before a Simon & Garfunkel-esque resonant snare drum snaps us back into the final exultant chorus. In other words, from start to finish, no song this year was more captivating to me, married my favorite genres better, or left me wanting to immediately listen again. "Run Away With Me" is the best song of 2015.